Regular price
Sale price
$4.99 USD
Unit price
per
Sale
Sold out
Immerse yourself in the transcendent tones of "Way Maker," beautifully captured in our Line 6 Helix Patch. Created to mimic the soul-stirring sound of Leeland's modern worship anthem, this patch empowers your performance, providing the gateway to an elevated worship experience.
Share
View full details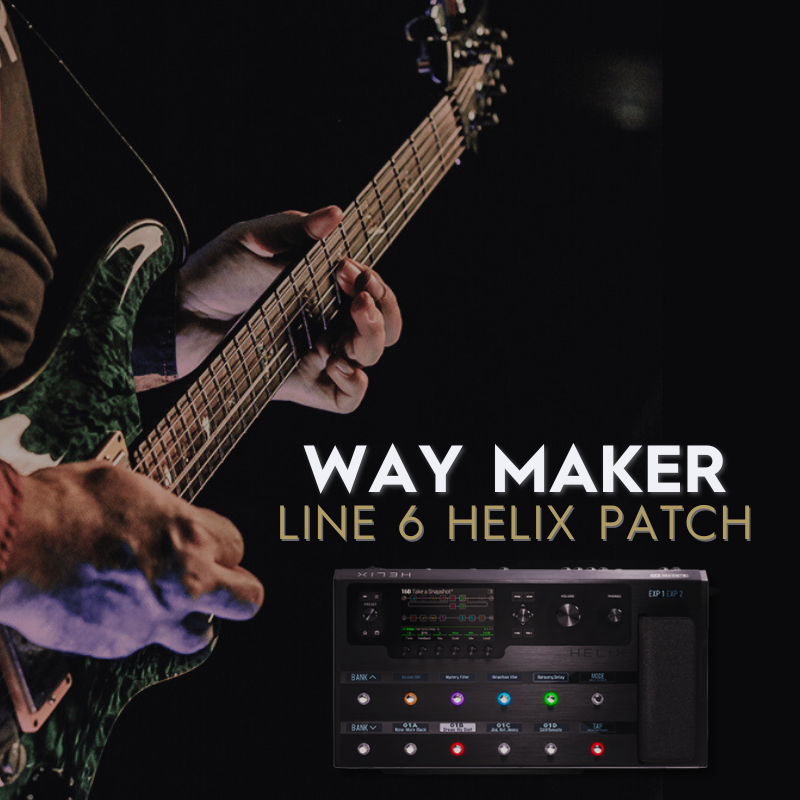 WAY MAKER - LINE 6 HELIX PATCH
AMPS

This patch blends the warm, full-bodied character of the Fender Twin with the iconic chime of the AC30 TB. This combination delivers a profound tonal depth, imbuing the spiritual essence of "Way Maker" into your worship guitar sound.

CABS & MISC

Our cabs of choice, the 4x12 Greenback 25 and 2x12 Double C12N, are paired to create a balanced, rich sound profile. Enhanced by the precision of two Shure SM57 mics, this Helix patch ensures a robust and authentic tone that translates both live and in intimate settings.

SNAPSHOTS

Our eight meticulously curated snapshots cover every segment of "Way Maker":
Snapshot 01: Clean - Delivers pure, pristine tones for those quiet, reflective moments.

Snapshot 02: Verse/Bridge - Designed to carry the core melodies with graceful dynamic control.

Snapshot 03: Chorus - Lets you drive the song's uplifting message with a full-bodied tone.

Snapshot 04: Huge - Release the uncontainable energy of this powerful worship song.

Snapshot 05: Lead - Perfect for those expressive, soaring lead lines.

Snapshot 06: Ambient - Engulfs your audience in a serene soundscape for reflective worship.

Snapshot 07: Swell - Elevate the drama and intensity with this dynamically responsive snapshot.

Snapshot 08: Slap Spring - Adds an extra dimension of depth and space to your tone.
The "Way Maker" Line 6 Helix Patch goes beyond simple tone recreation—it's a channel for the divine inspiration and fervent emotion that "Way Maker" inspires in countless hearts.

Are you prepared to inspire, move, and uplift with your guitar tone?
The "Way Maker" Line 6 Helix Patch is your key to not only achieving the ideal worship tone but also fostering profound worship encounters. Make each chord and note resonate with deeper meaning—empower your worship experience today.