Regular price
Sale price
$4.99 USD
Unit price
per
Sale
Sold out
Discover the dynamic guitar tones that breathe life into "Praises (Be Lifted Up)" with our Line 6 Helix Patch. Crafted to replicate the vibrant worship tones of this Bethel Music anthem, our patch enhances your performance, guiding your congregation to a higher realm of worship.
Share
View full details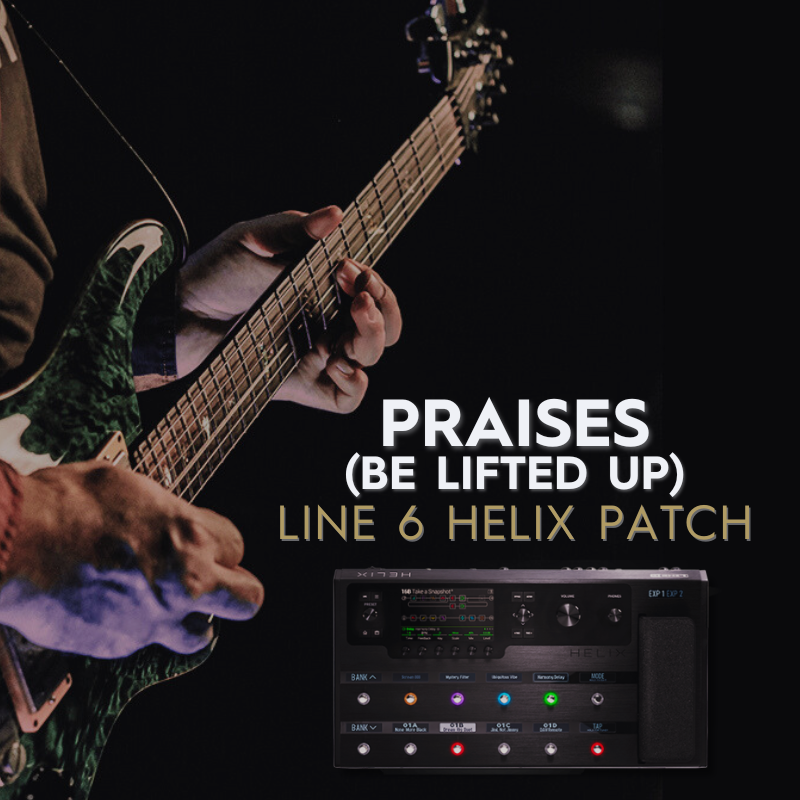 PRAISES (BE LIFTED UP) - LINE 6 HELIX PATCH
AMPS

This patch exclusively employs dual Matchless DC30 CH2, faithfully emulating the lush tones that are integral to this song's distinctive sound. With its harmonically rich character, it delivers the resounding warmth and clarity needed to bring forth the spirit of "Praises (Be Lifted Up)".

CABS & MISC

We've selected a pair of 2x12 Match H30 cabs to complement the amps, producing a resonant and balanced sound as heard in the original song. Enhanced by the precision of dual Shure SM57 mics, this Helix patch delivers a robust tone that is equally at home in grand auditoriums or intimate worship settings.

SNAPSHOTS

Our eight thoughtfully designed snapshots capture the dynamic ebb and flow of "Praises (Be Lifted Up)":
Snapshot 01: Intro - Where the sonic journey commences.

Snapshot 02: Verse - Captures the song's lyrical narrative with depth and detail.

Snapshot 03: Chorus - Lets you drive the song's powerful refrains with commanding tone.

Snapshot 04: Bridge - Creates the dramatic sonic backdrop for this critical transition.

Snapshot 05: Solo - Delivers soaring tones for expressive solos and lead lines.

Snapshot 06: Ambient - Provides the perfect sonic landscape for introspective worship.

Snapshot 07: Swell - Builds the energy and intensity with dynamic response.

Snapshot 08: Slap Spring - Adds a unique reverberant edge to your tone.
Our "Praises (Be Lifted Up)" Line 6 Helix Patch is not merely about tone emulation - it is a vessel for the spiritual fervor and passion that this song continues to ignite in countless worshipers around the globe.

Are you ready to convey deep spiritual truths through your guitar?
The "Praises (Be Lifted Up)" Line 6 Helix Patch is not just a key to an exceptional worship tone, but a pathway to engendering deeper connections and encounters during worship. Transform each note into a reverberating testament of faith—elevate your worship experience today.