Regular price
Sale price
$4.99 USD
Unit price
per
Sale
Sold out
Awaken the spirit of worship with the radiant guitar tones from "Alleluia." Our Line 6 Helix Patch breathes life into your Helix, capturing the vibrant, celestial tones that have made "Alleluia" an uplifting anthem in worship communities worldwide. 
Experience the awesome guitar tones that make "Alleluia" a beloved worship anthem with our Line 6 Helix Patch. This patch is expertly crafted to infuse your Helix with the warm, radiant tones to play this worship classic that has uplifted countless worshipers worldwide.
Share
View full details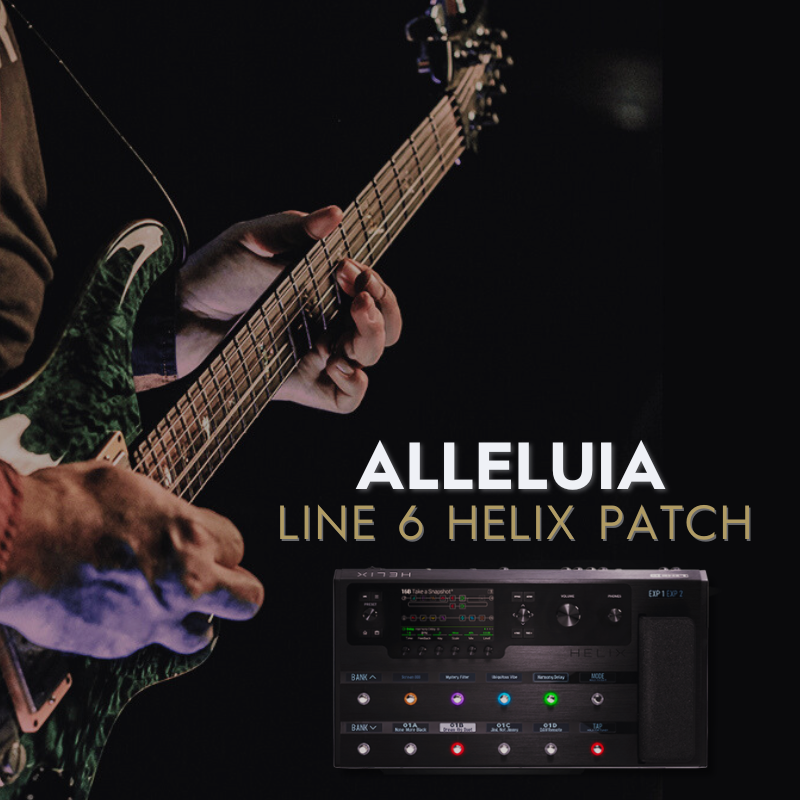 ALLELUIA - LINE 6 HELIX PATCH
AMPS
This patch marries the rich, full-bodied warmth of a Fender Twin with the bright and dynamic mids of an AC30 TB, creating an authentic, inspiring tone that reverberates with faith and devotion.
CBS & MISC
Achieve a sound profile that's true to "Alleluia," with a combination of the 4x12 Greenback 25 and 2x12 Double C12N cabs.
Add in the precision of dual Shure SM57 mics, and this patch promises a tone that's as stage-ready as it is worship-inspiring.
SNAPSHOTS
This patch is meticulously programmed with eight distinct snapshots:
Snapshot 01: Intro/Verse - A gentle start that evolves with the verse.

Snapshot 02: Chorus - Feel the energy rise with the empowering chorus.

Snapshot 03: Verse 2 - A touch more drive for the second verse.

Snapshot 04: Bridge - Engage with the song's emotional climax.

Snapshot 05: Ambient - Create a beautiful, space-filled sonic landscape.

Snapshot 06: Swell - Build up your sound for the dynamic sections.

Snapshot 07: Spring Clean - Add some shimmer and sparkle when needed.

Snapshot 08: Spring Dirty - Push the boundaries with a grittier tone.
Our "Alleluia" Line 6 Helix Patch isn't just a tool for achieving an inspiring tone—it's your partner in crafting moments of heartfelt worship, enabling a deeper, more resonant connection with your congregation.
Are you ready to lead your worship with the tone you've always dreamed of?
With our "Alleluia" patch, you'll not only unlock a world of tonal richness, but also create a worship environment that moves and inspires. Embrace the opportunity to make every note count—transform your worship experience today.