Regular price
Sale price
$4.99 USD
Unit price
per
Sale
Sold out
Welcome to the world of immaculate guitar tones, with the "Thousand Hallelujahs" Line 6 Helix Patch. Engineered to deliver the captivating tones of this powerful worship anthem, our Helix patch will take your worship experience to new heights.
Share
View full details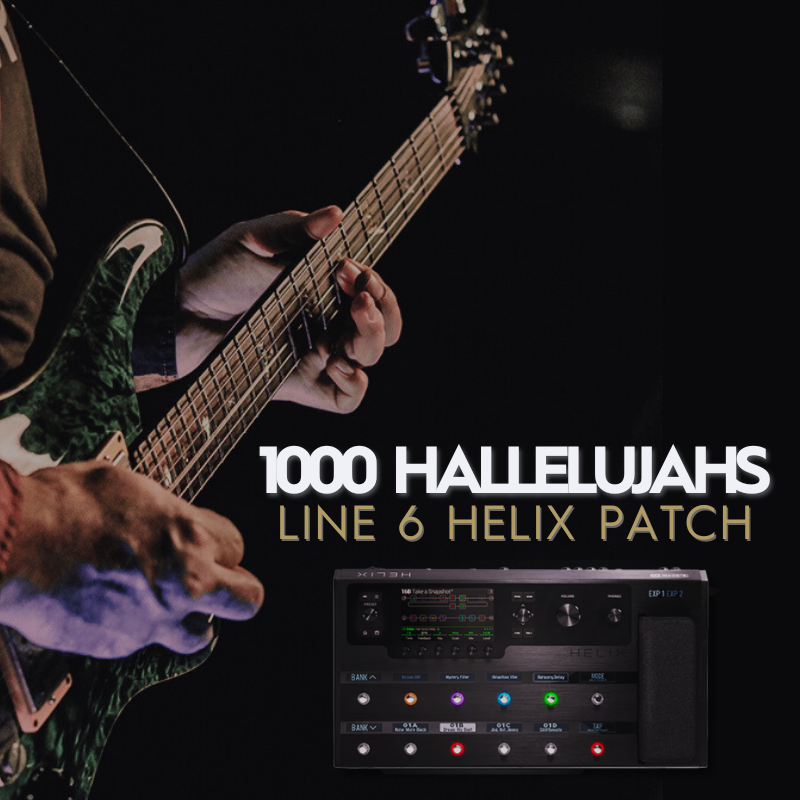 1000 HALLELUJAHS - LINE 6 HELIX PATCH
AMPS
Masterfully crafted, this patch blends the warm richness of a Fender Twin and the brilliant mids of an AC30 TB, creating the sonic bedrock of this influential song.
CABS & MISC
Our patch incorporates the power of two dynamic cabs - the 4x12 Greenback 25 and 2x12 Double C12N, resulting in a potent and balanced sound profile true to the original track.
Paired with two Shure SM57 mics, this patch ensures a sound that's not only authentic but also ready to light up your worship stage.
SNAPSHOTS
Our "Thousand Hallelujahs" patch comes pre-loaded with eight carefully curated snapshots:
Snapshot 01: Clean Delay - A crystal clear tone with a tasteful delay effect.

Snapshot 02: Verse - The perfect tone to enhance the narrative of the verses.

Snapshot 03: Chorus - A powerful tone that beautifully encapsulates the song's resounding chorus.

Snapshot 04: Bridge - A tone designed to drive the song's climactic bridge.

Snapshot 05: Lead - A tone tailored for those standout lead sections.

Snapshot 06: Ambient - Immerse your congregation in the serene soundscapes of worship.

Snapshot 07: Swell - An expressive tone designed to build and enhance emotional moments.

Snapshot 08: Slap Spring - A tone that adds character and space to your playing.

But this patch isn't merely about mimicking a superb tone - it's about kindling the same faith and devotion that "Thousand Hallelujahs" has instilled in millions of worshippers worldwide.

Our Helix patch is more than just a tool - it's a conduit for delivering an immersive, emotion-filled worship experience.
Are you ready to amplify your worship guitar tone?
With our "Thousand Hallelujahs" Line 6 Helix Patch, you're not just achieving the perfect worship tone, but also inspiring deeper encounters of worship with every note. Elevate your worship experience today - make every note count.